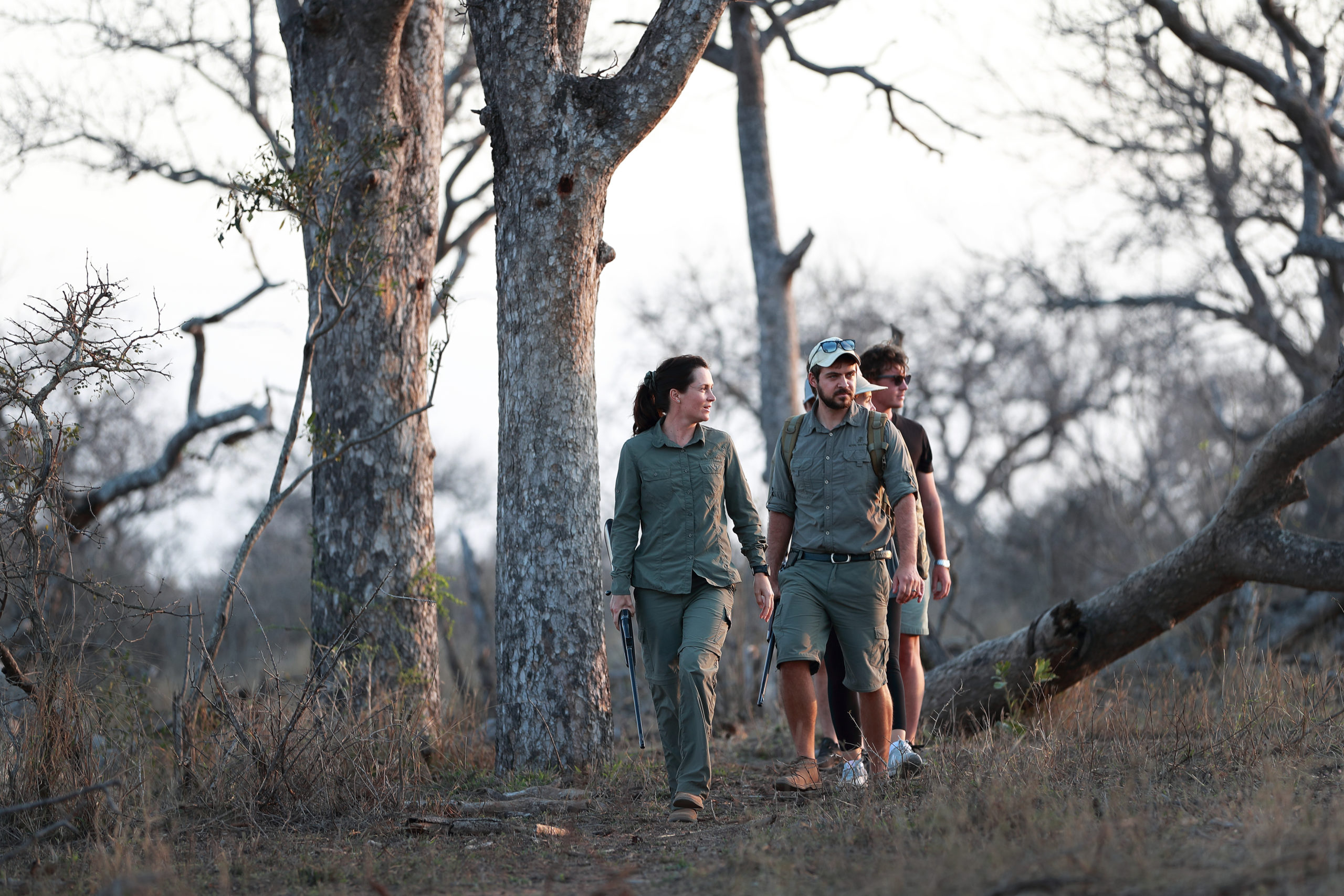 Professional guides are the key ingredient of any walking safari. Whenever we set out on foot in a reserve in South Africa, we're in the hands of people with all the skills and experience to keep us safe and to share a fascinating interpretation of the natural world. These skills don't come easy, and in Walking Safaris of South Africa, we explain the demanding requirements that must be met before qualification to lead trails in areas with big game, and how standards and certification in the private sector are administered by the Field Guides Association of Southern Africa (FGASA).
As with any profession, experience counts, and in guiding that means veld experience – years of mentoring and thousands of close encounters with potentially dangerous game. While guiding standards are excellent in all the venues covered in the book, the top private lodges can afford to employ the highest qualified guides, and there is no better example of this than Royal Malewane in Thornybush Private Game Reserve in the Greater Kruger.
There are ten trails guides covering the two Royal Portfolio properties in Thornybush, and six have achieved the highest level FGASA Trails Guide certification, which comes with the rather cumbersome title of "Special Knowledge and Skills Dangerous Game", or SKS(DG) for short. To get an idea of what it takes to reach that level, read this summary on the FGASA site. The guides are also all expert trackers at various levels; tracking is undoubtedly one of the earliest skills developed by humankind, and still one of the most challenging to master. Tracking and guiding are distinct skillsets, and very few people can become truly expert at both. Those who do so are recognised with the title FGASA Scout – there are only a dozen or so in the whole of Africa, and one, Juan Pinto, works at Royal Malewane.
What does having South Africa's best qualified roster of guiding talent mean for guests?
It offers an enriched safari experience, with more flexibility in activities. Exploring by vehicle is always core – after all it offers opportunities to get very close to big animals and take the best photos. But when all the guides are trails qualified, guests don't need to feel trapped in the vehicle. For example, when out on a morning drive, if the fresh tracks of leopard are spotted, with a qualified guide and tracker it's possible to get down and follow the spoor for a while.
It also means having the choice to venture out at dawn to explore on foot, to soak up some of the guide's bush wisdom, to walk in silence amid stands of marula trees, or sit awhile atop 'Aloe Ridge", taking in the Drakensberg views. Or having the opportunity to spend time in the veld with a Master Tracker, one of the great African wilderness experiences. And guests will also find that the most experienced guides tend to have the most entertaining trove of campfire stories.
While Royal Malewane has always had well-qualified guides, it is only recently that walking activities have taken off. Head guide Ryan Jack says that the guides themselves enjoy being able to practice all their skills, and simply like leaving the vehicle for a while. "It really switches on the senses – we hear more, we smell more, we see all sorts of smaller things. And maybe it's a response to the pandemic, but we find our guests are more keen to spend time on foot these days."
Walks at Royal Malewane – which are inclusive in rates – typically last from 1.5 to 3 hours, depending on guest wishes and conditions. A nice option is to walk for a couple of hours between the main lodge and Farmstead properties through a mixed veld of tamboti thickets and open grassland, pausing to spy on any morning visitors at a large watering hole. Breakfast can then be taken at either destination, before return by vehicle.
Walking has a nice fit with the "slow safari" philosophy, and Royal Malewane has a "stay 6/pay for 5 nights" offer until 15 December 2021. Special rates are also available for SA residents – contact reservations@trp.travel or 021 671 5502 to find out more.