Walking Safaris of South Africa is the complete guide to walks in South Africa's big game wilderness areas. It covers the nation's 18 parks and reserves – plus a couple in eSwatini, and one in Botswana – where guided walking safaris are available. Walking Safaris of South Africa is published by Struik Travel & Heritage, an imprint of Penguin Random House South Africa.
One third of the book is devoted to pre-trip preparation: where to go and when, advice on how to pack and dress, and what to expect when on the trail. It explains the options available, which range from short walks to be enjoyed by all visitors, to wilderness trails from dedicated camps and lodges, to more arduous backpacking trails.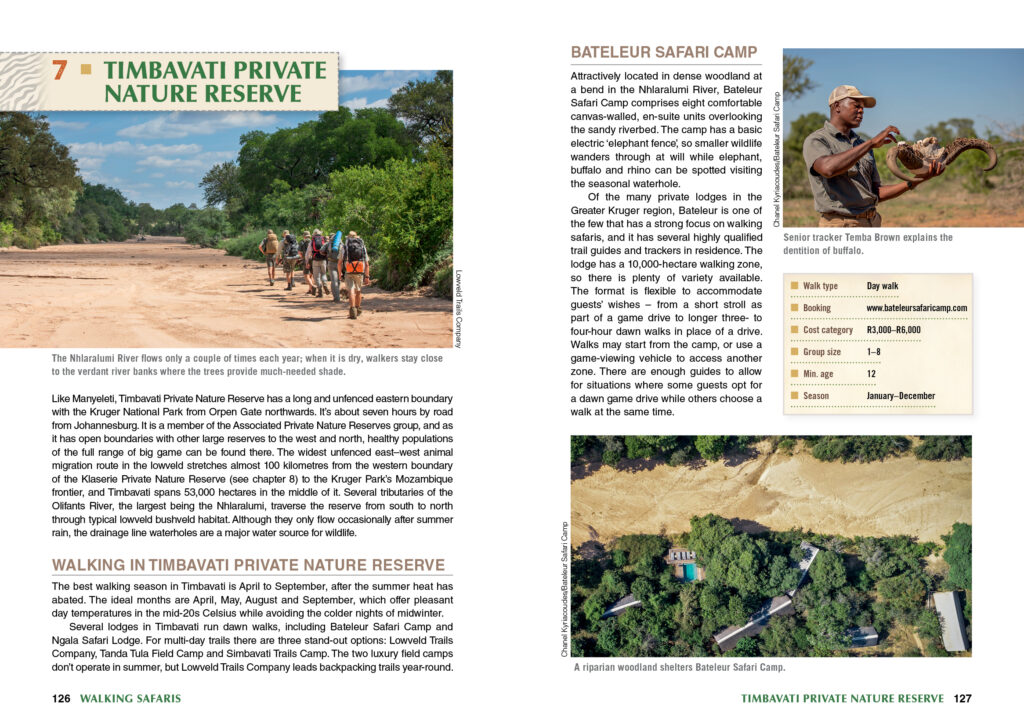 Another third of the guide describes the options in each reserve, covering all of the walk operators, including information on operating seasons and making bookings.
The rest of the book comprises first-hand narratives of walk experiences, which paint a vivid picture of how walking safaris offer an intense appreciation of African wilderness.
"There is really no substitute for enthusiastic and passionate writing, and I must congratulate the authors and publisher for a production which I am sure will stimulate those who have not spent any time walking in protected area to give it a try."

Dr John Hanks, reviewing Walking Safaris for Fine Music Radio Book Choice
All of the reserves included have big game, which means that visitors can only walk in the care of specialist guides. (The book does not cover other parks and nature reserves where visitors are free to self-guide on marked trails). It aims to include all camps and lodges that have a focus on walks – where they are guaranteed, and offered as the main activity of the day. There are some lodges, especially in the Greater Kruger area, that can offer walks on request. It's always worth inquiring, as every wilderness walk has the potential to be magical one. See the Parks & Reserves section for information on new walks that have been launched since the book was published.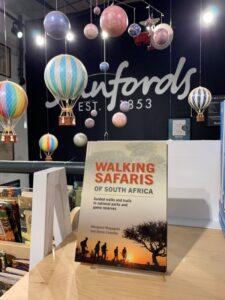 Pub date: February 2021
ISBN: 9781775846901
ePub: 9781775846895
RRP: R270.00
Format: 210 x 148 mm
Extent: 184 pages
Text: 70,000 words
Images: ±200, full colour
Language: English
Covers: Softcover
Imprint: Struik Travel & Heritage
---
Order the Book
Bookshops
Walking Safaris of South Africa is in stock with distributors in South Africa, USA and UK. Just ask at your local bookshop, and they should be able to get it quickly.
Online
Click here for a list of some of the online bookshops selling Walking Safaris of South Africa around the world.
Trade Orders
---
Book Reviews
Dr John Hanks reviewed Walking Safaris of South Africa for Fine Music Radio Book Choice (audio and text below)
BOOK-REVIEW-FOR-FINE-MUSIC-RADIO-BOOK-CHOICE.-Walking-Safaris

Amazon Reviews are Five Star
It's early days, but so far Amazon readers are unanimous.