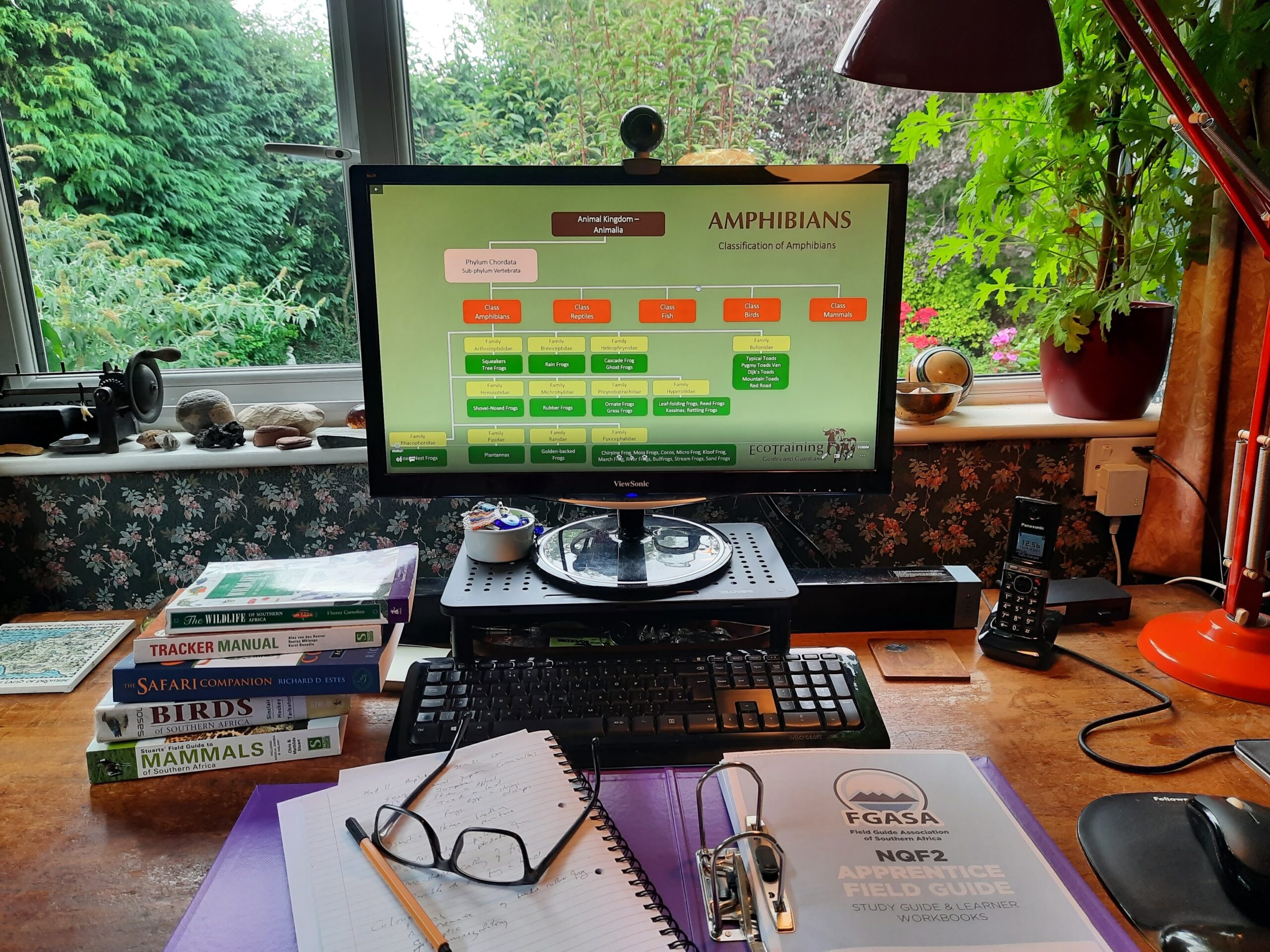 By day they read tracks in the sand, and by night trace patterns in the star-scape. They can ID a soaring raptor in seconds, tell tales of the secret lives of ant colonies and describe a half dozen useful properties of the Shepherd's tree. The depth of knowledge of a Nature Guide in Africa is awesome, and that's largely down to experience. But before experience comes training and it may come as a surprise that this is accessible to all, and not just those planning a career in guiding. In fact, any nature-lover can immerse themselves in the arts of the Field Guide and Trails Guide by joining their training courses.
They don't even have to be in Africa to get started. A happy consequence of the Covid-19 pandemic is that the leading nature training company, EcoTraining, started offering online courses over Zoom. This opened the door to enthusiasts from all over the globe, allowing them to study the theory component of the guide training programmes devised by the Field Guides Association of Southern Africa (FGASA).
There is a set of FGASA courses covering different skill levels and specialities but the foundation for all guiding disciplines is Field Guide training. The Field Guide syllabus has 17 modules that span African natural history, starting with geology, climate and astronomy, progressing through every form of animal and plant life, and winding up with human history and conservation management. Normally students cover this syllabus at a training camp, mixing theory and practical learning each day. By offering the theory online, EcoTraining allows these elements to be split. Many who take the remote learning option do so out of interest, and may never go on to do the field practical. Others like to do the theory online as it shortens the EcoTraining practical training from 55 days to 35 days – a saving on time and money, and an important consideration for those balancing work and family commitments.
The online Field Guide course runs for eight weeks, with three sessions of 2-3 hours per week. Each module is followed by homework. It's challenging, but fascinating and fun – especially for those doing it out of interest rather than worrying about the FGASA qualification exam. The live format of the lectures is a plus, as they are highly interactive, with the chance to fire questions at the lecturer, enjoy their anecdotes, and hear from other students, who often have particular relevant expertise themselves. That said, depending on home time zone and other commitments, some prefer to catch up on the course recordings. And EcoTraining will soon launch an on-demand version of the Field Guide training.
It seems impossible that an activity as physical as trails guiding can be learned online, but it's both feasible and fascinating to cover the theory aspects. EcoTraining's 5-week online Trails Guide course features a deeper dive into topics relevant to guiding on foot in areas with dangerous game – navigation, tracking, animal behaviour and the ethics of animal encounters. It also covers basic rifle handling theory. Naturally, the trainers are experienced Trails Guides, with plenty of stories to tell.
It makes sense to complete the Field Guide online before the Trails Guide online, but not absolutely necessary if just doing them for fun. Each class has a dedicated WhatsApp group which takes on a life of its own during and after the course, as students share nuggets of info about African nature, photos and travel tips, and even organise meet-ups – both virtual and real.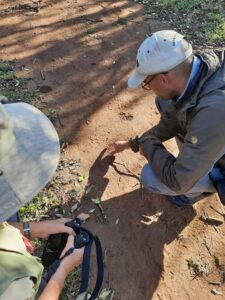 For many, the online theory course only whets the appetite to follow up with practical training in the bushveld. EcoTraining runs these courses at a number of venues in South Africa, Botswana and Kenya throughout the year. The field practical can be enjoyed as an immersive and unhurried safari, but it's also serious training. There are regular assessments on paper and as field observations – students are tested on their ability to ID birds, trees, tracks and calls. They learn to drive a 4×4 safely in rough terrain, and the ethics of interacting with wildlife. They also get to practice the soft skills of guiding – communication, and understanding how to provide a good experience for guests. For those aiming for FGASA qualification, the final week assessments are challenging, and with success the student is passed as an Apprentice Field Guide, which is a minimum requirement to train as a Trails Guide.
Doing the Trails Guide training online does not shorten the time for the Trails Guide practical, which takes four weeks, but it gives a head start on topics that will be recapped in camp. As with the Field Guide training, you don't need to be planning a career to do the Trails Guide training, but can treat it as a chance to spend a big chunk of every day on foot in some of Africa's most wonderful wilderness areas, enjoying the company of like minded folks and expert trainers.
For some, online nature guide training can be the first step on a life-changing journey. At minimum, it enriches the experience of being in African wilderness, by vehicle or on foot. Even if we never match the skills of professional guides, a deeper knowledge and understanding of what is observed makes us better guests.
Apart from the Field Guide and Trail Guide courses, EcoTraining has online courses for Birding Enthusiasts and Wildlife Tracking. The next 5-week Trails Guide online course starts on 5th April 2022. For more information about the courses, including costs and calendar, see EcoTraining.