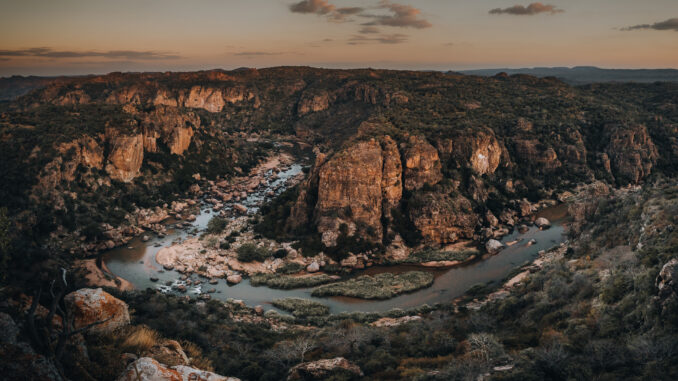 In the Kruger's far north, a languid liquid thread brings life to the Pafuri triangle, the national park's most biodiverse area.
The Luvhuvhu river enters the park via a series of meandering sandstone canyons, where raptors soar and crocodiles gape on sandbanks. It gushes over age-polished stones in the shade of ana trees and sycamore figs and under the bridge where bird-watchers gather, hoping to spy a Pels Owl or an exotic tropical visitor. Elephants, waterbuck and nyala are ever-present as the waters ease and pool to feed the floodplain with its forest of fever trees. One last broad pool is home to hippos, before the Luvhuvhu blends with the Limpopo at a triple international border.
This photo essay by Kim Paffen illustrates the rich textures and natural diversity of one of Africa's finest walking safari destinations.
For this assignment, Kim stayed at The Outpost, a luxury lodge where guided walks are on the menu. She was guided by Reynard Moolman. For more information click the Trip Enquiry button on this page.