South Africa's original Wilderness Trails were rough adventures. In the 1950s, when game rangers Ian Player and Magqubu Ntombela started bringing visitors into iMfolozi and Lake St Lucia game reserves on foot, tents were not part of the kit list. Guests slept out in 'bivvy' bags, taking it in turns to keep watch by a small fire, ears cocked for danger. It was the natural way to do things – after all, it was what the rangers were used to, and has been the experience of humans in the African wilds forever.
This style of wilderness access has a negligible environmental impact, a big factor for Player. It enables exploration without the negative aspects of tourist camps – road construction, water extraction, sewage treatment and so on. Player used the term "Wilderness Trail", a concept that had already been pioneered in Zambia. In iMfolozi, his style of trail continues in this original format and the organisation he founded, the Wilderness Leadership School, still calls sleep-out trails "Wilderness Trails". But the Overton window of trails comfort has shifted, and today a Wilderness Trail can involve a good deal of comfort. Ezemvelo KZN Wildlife now refer to their tented trails as "Wilderness Trails" and the sleep-out style as a "Primitive Trail", and this name has caught on elsewhere too.
In the Kruger National Park, tents are mandatory on backpacking trails. However, there are a few reserves along the park's unfenced western boundary where Primitive Trails are possible. Brenden Pienaar and Wayne Te Brake of Lowveld Trails Company love this style of trail and have been guiding them in Timbavati and Balule for some time (see Chapter 7 of Walking Safaris of South Africa). Always keen to explore less visited corners, in 2021 they started bringing hikers into a much more remote northern section of the Kruger borderlands: Makuya Nature Reserve.

Makuya is a community-owned reserve on the west side of the Luvuvhu river, which delineates the boundary with the Kruger National Park. Without exaggeration, the Luvuvhu is the central feature of South Africa's finest walking safari zone, as guests of Pafuri Walking and the Nyalaland Wilderness Trail can testify (see Chapter 5 of the book). The fact that another sector is now open to walks is very good news, although you need to be prepared for some Player-level adventure, including that night watch rota.
First, some logistics. The trails' meeting point is Singo Safari Lodge, which is reachable in a sedan; other roads are very rough in the reserve, and 4×4 is needed to explore. It takes about seven hours to drive to Singo from Johannesburg via Polokwane, and the trails depart Singo at 1pm. Although the reserve goes all the way north to the R525 and Pafuri Gate, it can't be accessed from that direction, and there is only one way in – that is via the gate near Tshikondeni coal mine. Singo is a rustic camp – no hot water – set on a cliff overlooking the river, and is a good spot for a night before or after the trail. Alternatively, there's a camp site east of Singo that can be accessed by 4×4 and campers there need to be fully self sufficient.
Lowveld Trails guests also need to bring everything they will need for the trail (except that tent). See the 'Packing for Backpacking' pages of Walking Safaris of South Africa for some guidance; Lowveld Trails also have a useful packing checklist on their website. Trails are priced per group (maximum eight), so it makes sense to round up a group of friends. A good level of fitness is required due to the challenging terrain and temperatures can be hot, even in winter.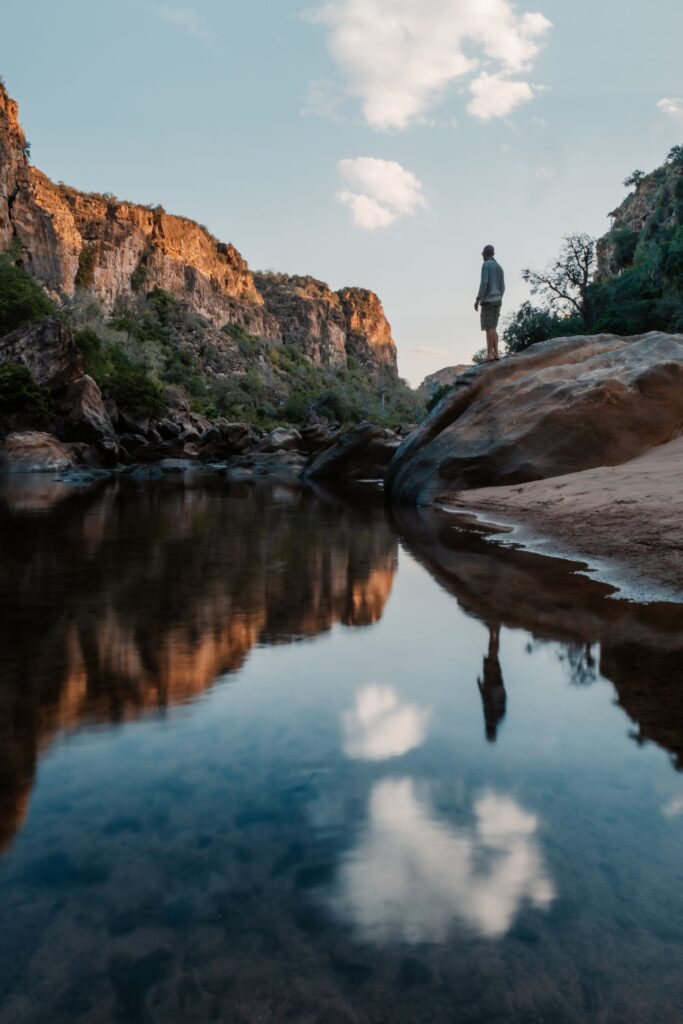 Naturally, walks are centred on the Luvuvhu and its tributary, the Mutale river. The topography makes it tricky to go inland, and in any case the best views and wildlife are found along the water courses. The rivers are the water source for hikers and there are safe places to take a cooling dip. It's even feasible to take off the boots to paddle sections – keeping a close eye for crocodiles. When big animals are elusive there are plenty of fine trees and tracks and prolific birdlife to keep things interesting.
From Singo, walks can head either up or downriver. Camp sites are selected along the way, with great care taken to overnight in a way that leaves zero trace. Drinking water is sourced from the Luvuvhu, which is the cleanest of the rivers that traverse the Kruger, and water purification drops can be added if desired. Cooking is strictly by camping stove, and if a fire is lit, it is just a small one, with all traces removed on departure.
In their first season, most Lowveld Trails explored downriver towards the Mutale confluence, where the red sandstone cliffs of the Luvuvhu Gorge rival those of the Lanner Gorge (a big draw for walking visitors to the Makuleke area). This season, they plan to also explore the little-visited southern part of the reserve upriver. This area has equally dramatic scenery, with secret gorges containing clear rock pools on some of the Luvuvhu's tributaries. The south also promises a higher game density and it is wilder with less chance of disturbance. At the end of a trail, a vehicle pick-up is arranged and guests are reunited with their vehicles at Singo by 11AM.
Makuya Nature Reserve's remoteness guarantees it will never be a mainstream safari destination, so the backpacking trails are a good way to contribute to the VhaVenda community stewardship; gate fees are very low at R50 per person, plus R50 per vehicle. In the past, some income was generated from hunting, but it has not taken place for a few years.
Baobab tree fans will enjoy trails in Makuya, where forests of them can be found. And South Africa's biggest specimen can be visited on the way home – Sagole Baobab Tree. Unfortunately many of Limpopo's oldest baobabs have been lost in recent years, probably due to climate change factors, so this ancient survivor is worth the detour. For a comfortable post-trail experience, Tshipise Forever Resort is a good option.
Makuya Primitive Trails operate from April to November – it's simply too hot to function in the summer months. Early in the season it's greener, but the thicker bushveld can restrict walk options. It thins out as the season progresses, and there's more animal activity along the river.
It's not just in South Africa that Lowveld Trails keeps the Primitive Trail embers burning: from August to October they lead them in Rwanda's Akagera National Park. That will be the subject of an upcoming blog here.
Three-night Makuya Primitive Trails cost R35,900 per group, and there's an option to extend the trail up to six nights. To get more information and arrange a date: Lowveld Trails Co or email Nicole te Brake at reservations@lowveldtrails.co.za.