They say it's better to die with memories not dreams, and surely one of life's great experiences is to spend time on safari in the African wilds. It can be a once in a lifetime experience, which is why we always encourage visitors to take the walking option when it is on offer – there's a good chance it will provide the most memorable moments of your safari.
For the full walking safari experience, you need to head for a park or reserve where walks are professionally guided amidst big game such as elephants, buffalo and big cats. In general, such walking safaris cost pretty much the same as non-walking safaris – lodges and seasonal camps include walking as an activity under the all inclusive price. Mobile safaris usually cost a bit more as they need extra staff and vehicles or pack animals to manage the camp movement. In Northern Kenya, this can add up to a very impressive caravan. Although expensive, mobile safaris are very special and tend to have repeat guests who say they are worth every penny.
So is it possible to have a walking safari on a lower budget? Yes, but watch out for a few pitfalls.
Some cost saving advice that applies to safaris in general does not apply for walking safaris. Firstly, you need to sleep in the reserve to do a walk, as the best time to depart is at dawn. So, with the odd exception, you can't stay outside the park to save on costs. Secondly, going on safari off-season will be cheaper, but it's off season for good reasons. Walks may not operate or be unpleasant due to conditions – too hot or rainy, grass too tall, river waters too high. Thirdly, it's vital that your guide has the correct qualifications and experience to lead walks in big game areas.
Now, here's our top tips for enjoying a walking safari without it costing the earth.
Visit Less Famous Parks
Skip iconic parks in favour of lesser known destinations. The Okavango, Luangwa and Serengeti are all superb walking destinations, but it's tough to find a walking option below $600*. Seek out a lesser known reserve to find equally good walking at a lower cost. In Botswana, Tuli Wilderness offers fantastic trails for less than $170, and there are options for under $350 in Liwonde, Malawi and Amboseli, Kenya.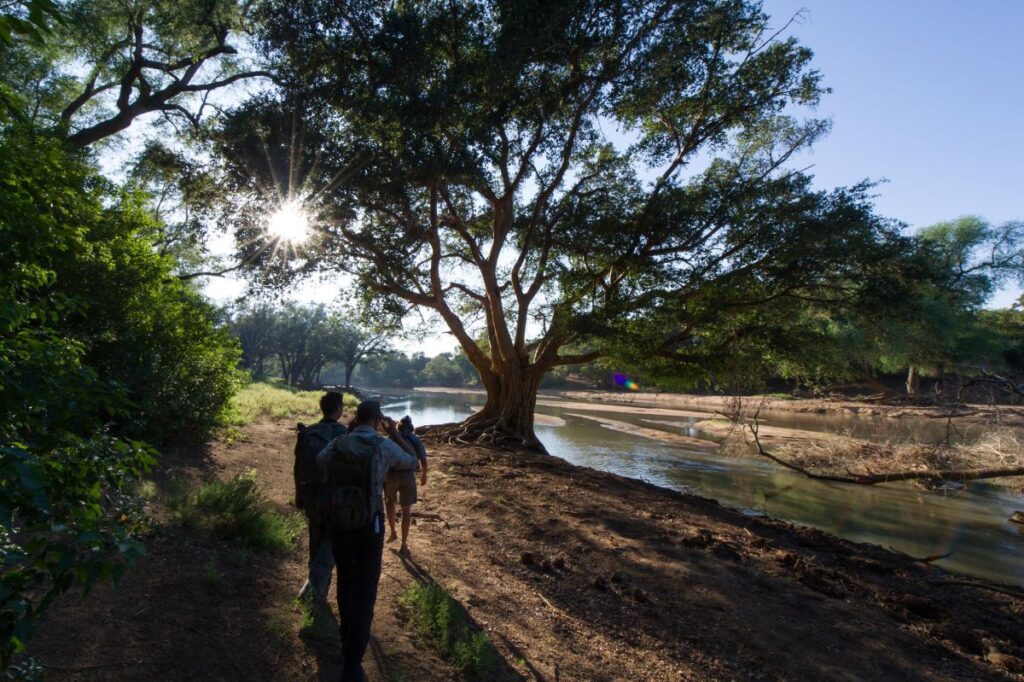 Go to South Africa
South Africa differs from other safari destinations in having a large outdoorsy domestic market while every other African country is dependent on fly-in visitors. Publicly owned parks have a long history of accessibility for domestic visitors, and private reserves also have to price to the local audience. It's feasible to rent a vehicle and self-drive rather than take charter flights to reserves; and pricing is normally in Rand, which goes a long way for overseas visitors.
There are lots of Wilderness Trails in South Africa where you walk from a trails camp with just a little daypack for your water and essentials. The best value in this sector is a SANParks Kruger NP Wilderness Trail with a choice of seven camps, all exclusive and away from motor safaris. A few even have ensuite plumbed bathrooms and a three night trail is just over $100 per night, all inclusive.
Privately run wilderness trail camps generally cost more, but still less than in other parts of Africa. In the Kruger area there are great options ranging from Manukuza ($95, self-catering) to Pafuri Walking and Africa on Foot (both around $270, fully inclusive) to Rhino Walking ($420).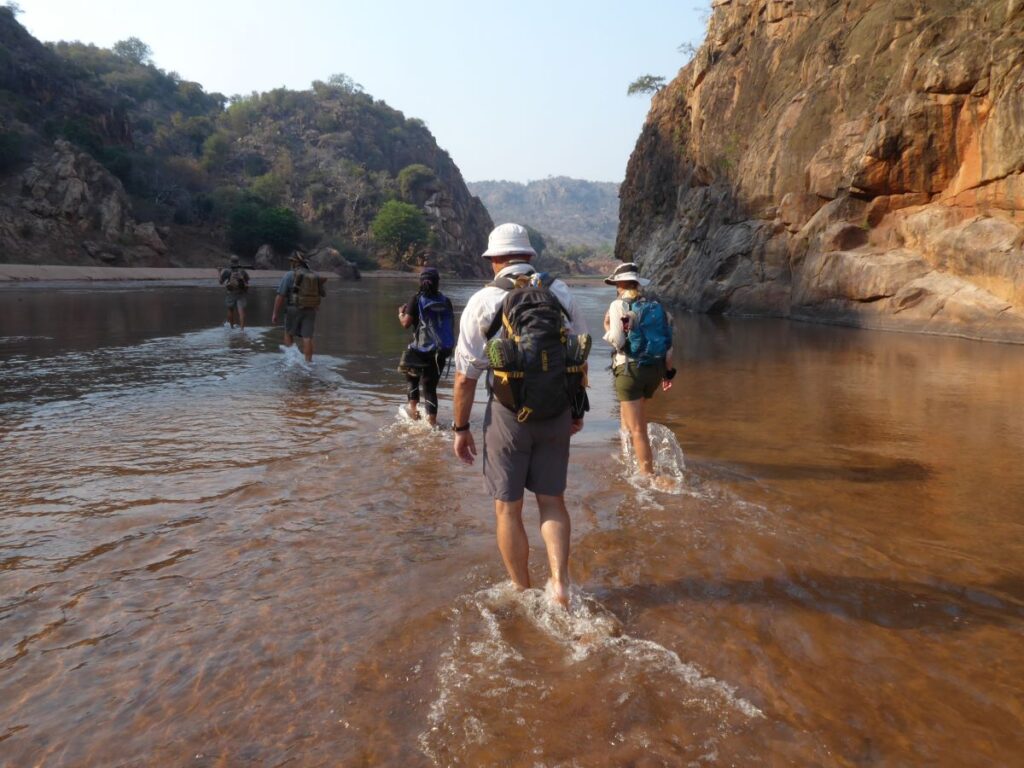 Lodges with walks in South Africa are also very well priced in comparison to other African destinations. Try Rhino Ridge in Hluhluwe-iMfolozi ($130), Pungwe Camp ($270) or Makumu ($330), both in the Greater Kruger.
Walking Safaris of South Africa has detailed information about all of the walking safaris in Africa's most affordable safari destination.
Join a Backpacking Safari
If you are fit and happy to carry a backpack and use a bush toilet, backpacking safaris are the way to go. These are on offer in South Africa and Zimbabwe but aren't really a thing in other parts of Africa.
Kwa-Zulu Natal and the Kruger area have a good selection of backpacking trails and none cost more than $70**. Most private trails require a group booking, but solo walkers are welcome to book on others such as the regular SANParks Kruger Backpacking trails. These cost around $50, and for a similar price you can enjoy a sleep-out primitive trail in Kwa-Zulu Natal's greatest park, Hluhluwe-iMfolozi. Meals are included, and here you don't even need to have hiking kit, as the park will supply it on request.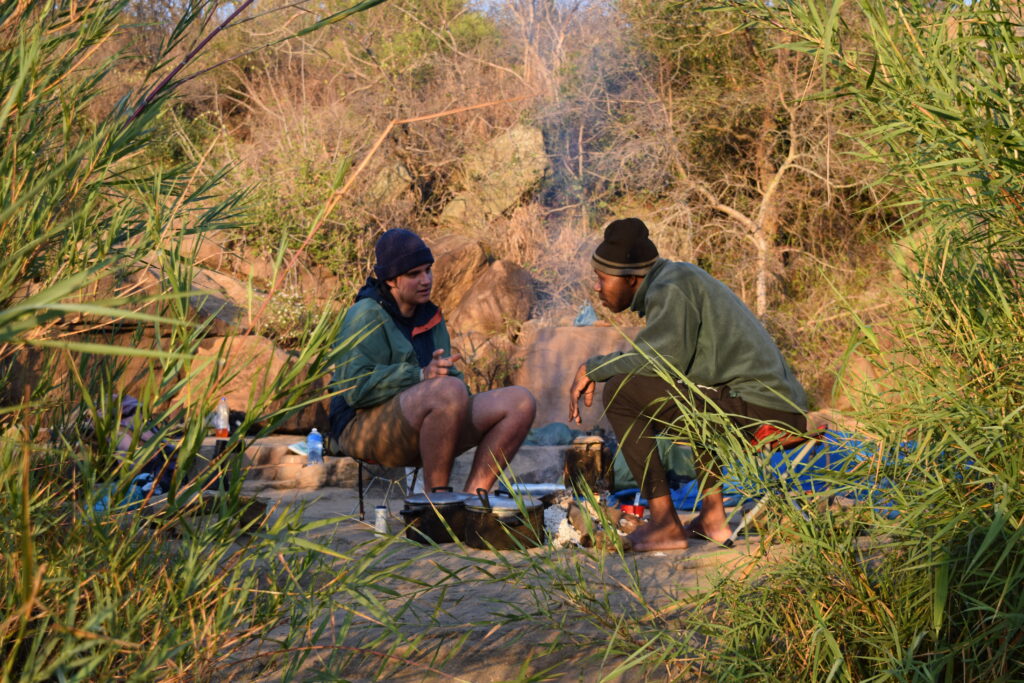 Do a Training Course
If you are crazy about nature and don't need the scented towel treatment, then have a look at EcoTraining. Their main business is guide training but non-professionals keen to learn are also welcome. Short EcoQuest courses in South Africa, Botswana and Kenya involve a good bit of time on foot, and a 14 night course in South Africa can be had for under $200** per night all inclusive. The 4-week Trails Guide course is open to all (exams optional) and it is the ultimate experience for walking safari aficionados – a course that combines two weeks in Kruger National Park and two weeks in Botswana costs $140 per night all inclusive.
EcoTraining pricing does not disadvantage solo travellers, and the field courses are a great way to meet other nature lovers from around the world.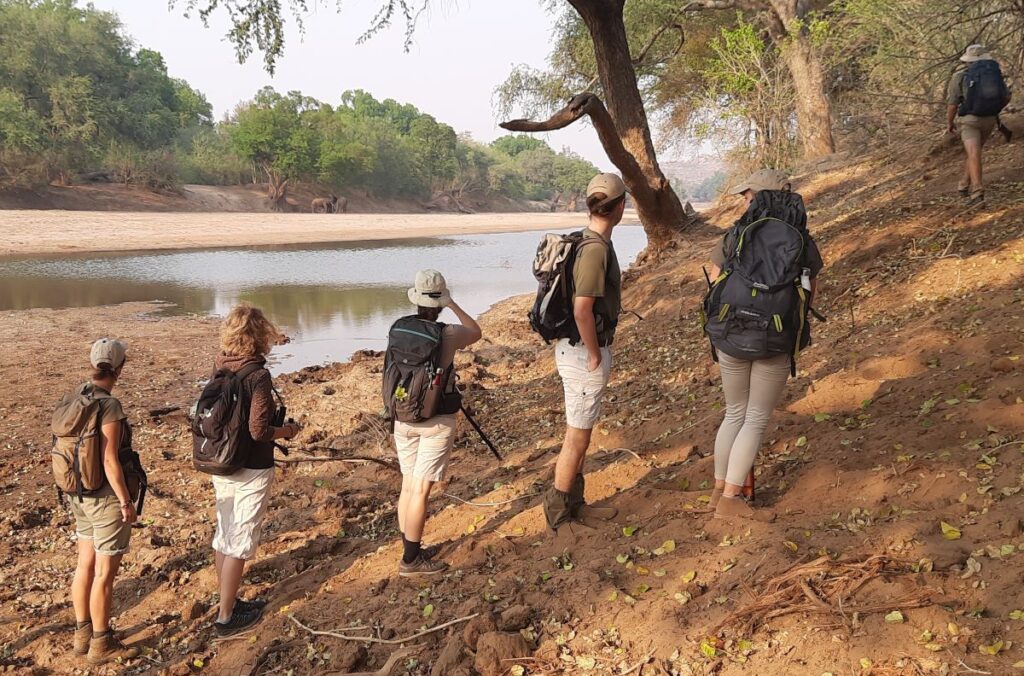 Live in Africa
And finally, if you are a resident in a safari destination, costs will be lower. National Park fees are generally reduced for locals (who are already paying for the parks via their taxes) and some private reserves have lower conservation fees. It's also possible to self-drive to many parks and self-cater or even camp if equipped for it. Then, walks can be lined up with park rangers or local walk operators.
Often, private walk operators offer special rates for residents, which encourage repeat visits and also reflect the realties of affordability. If a local rate is not published, always ask for it. Operators have different rules; rates may be seasonal and usually open to residents of neighbouring African countries too.
Local residents are well placed to avail of last minute offers – keep an eye on the social media of your favourite walk operators.
---
* Lodges and trails camps are priced per person sharing per night (PPSPN)
** Backpacking and training camps are priced per person per night (PPPN)
Prices are based on listed prices and exchange rates in June 2023.